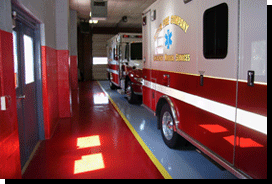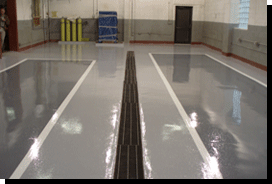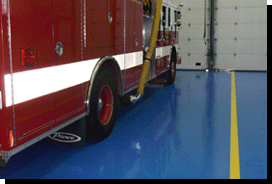 Floor Coating 3200 is ideal for those that want:
A protective, non porous floor suited for light duty applications
Slip resistant flooring for reduced risk of injury when surface is wet
Easy to maintain, seamless floors
Aesthetic versatility; our industrial floor coatings are available in a variety of colors and gloss levels
Floor Coating 3200 is available in a decorative flake version
Engine Bay Floors has become the leader in polymer flooring for today's Fire, Rescue and EMS facilities due to the addition of the Floor Coating 3200 floor epoxy system.
Floor Coating 3200 (commonly known as a thin mil system) is a 32 mil, epoxy-polyester polyurethane floor coating system utilizing cycloaliphatic amine blended, pigmented, epoxies and pigmented, aliphatic polyester polyurethane in combination to produce a resin rich, chemical resistant, protective, polymer flooring system that lasts up to 3x longer than traditional industrial floor coatings, paints or concrete sealers.
Floor Coating 3200 is an economical floor epoxy system designed for light use. It has been formulated to be used as a recoat over existing floor epoxy but can be used as a standalone floor coating system. As a dependable floor epoxy system, it provides good value that enhances and protects your concrete floor. The additional traction and light reflectivity will improve safety and provide attractive results.
The Floor Coating 3200 system delivers suitable performance whether you're planning its use for the restoration of an existing floor epoxy system or are thinking of coating new concrete. It provides an attractive, safe, new floor that eliminates concrete dusting and staining. Floor Coating 3200 is capable of resisting occasional loads from light duty rescues, light duty brush trucks and ambulances. The new concrete floor coating system will stay bonded, is resistant to delamination and capable of dissipating high temperatures resulting from hot tires. Additionally, Floor Coating 3200 system will be cured and ready for traffic (in most cases) in less than 24 hours upon completion of your floor coating project.
Please note the following recommendation from the Engine Bay design team:
Due to the thin dry film thickness of the Floor Coating 3200 flooring system, it will be susceptible to damage from items dropped on the floor as well as stones that may lodge in truck tires. This damage will appear as small chips similar to when stones hit the front of a truck. Therefore, Floor Coating 3200 may not meet your wear and atheistic expectations.
Please keep this in mind as you evaluate our various flooring systems.
This is not a concern if Floor Coating 3200 is used to recoat an existing floor epoxy coating.
With VOC compliant, 100% solids chemistry, Floor Coating 3200 meets or exceeds the strict Federal, State and Local VOC laws and regulations. This epoxy floor coating system is remarkably strong, chemical resistant, highly attractive and easy to clean.
From the initial consultation to the completion of your concrete floor resurfacing project, let us show you how our industry knowledge and years of design and installation experience result in the difference you can count on.
At Engine Bay Floors, while you're protecting the people we'll be protecting the floors with tough performing Floor Resurfacing 3200 or other concrete floor resurfacing installations.