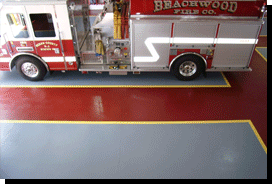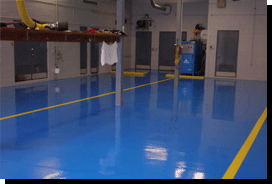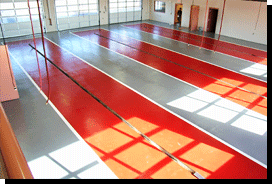 Concrete Epoxy 8000 is ideal for firehouse floors and EMS facilities that require:
An exceptional concrete finish with strength and durability ideally suited for pumpers and rescues.
A slip resistant finish for reduced risk of injury when the surface is wet.
Easy to maintain, seamless floors for which an integral Concrete Epoxy 8000 cove base is available.
Aesthetic versatility; the concrete finishes are available in a variety of colors and gloss levels.
Advanced performance tailored to your needs and expectations.
Years of life expectancy and warranties to match
Concrete finishes that rejuvenate worn surfaces for a smooth, uniform appearance.
Concrete Epoxy 8000 is available in decorative colored quartz and a full flake version.
Engine Bay Floors, a leader in polymer flooring for today's Firehouse Floors, Rescue and EMS facilities featuring the Concrete Epoxy 8000 flooring system.
Concrete Epoxy 8000 is a 125 mil (1/8 of an inch) epoxy-polyester polyurethane broadcast floor resurfacing system, ideal for firehouse floors. Utilizing cycloaliphatic amine blended epoxies and indestructible silica quartz aggregates in combination, produce a premium polymer concrete finish with maximum durability that lasts up to five times longer than competitive high build urethane/epoxy concrete finishes.
Concrete Epoxy 8000 is an affordable solution for firehouse floors and is designed for moderate use. It provides exceptional durability and outstanding value as a tough, dependable concrete finish flooring system delivering the most protection for your money.
The Concrete Epoxy 8000 system delivers above average performance for restoration/repair projects or overlaying new concrete on firehouse floors or EMS facilities. It provides an attractive, durable, safe new floor with compressive strengths 2-3x greater than standard concrete. Concrete Epoxy 8000 is capable of resisting the constant loads from pumpers and heavy duty rescues. The new flooring systems are guaranteed to stay bonded, are resistant to de-lamination and capable of dissipating high temperatures resulting from hot tires on firehouse floors. Additionally, Concrete Epoxy 8000 will be cured and ready for traffic (in most cases) in less than 24 hours upon completion of your floor resurfacing project.
With VOC compliant, 100% solids chemistry, Concrete Epoxy 8000 meets or exceeds strict Federal, State and Local VOC laws and regulations. This outstanding firehouse floor resurfacing system has a unique combination of flexibility, impact, chemical and abrasion resistance along with high bond strength to concrete. Plan on Concrete Epoxy 8000 to make a major and lasting improvement to your firehouse floor!
From the initial consultation to the completion of your concrete floor resurfacing project, let us show you how our industry knowledge and years of design and installation experience result in the difference you can count on.
At Engine Bay Floors, while you're protecting the people we'll be protecting the floors with tough performing Floor Resurfacing 4000 or other concrete floor resurfacing installations.